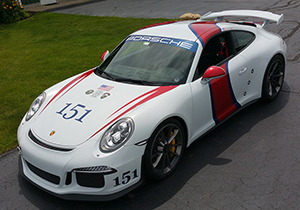 A simple graphic scheme on this 991 GT3 on the pearl white base paint, we added pearl red and metallic blue graphics.
This is a full wrap. The original paint color was charcoal & we covered it completely with the new scheme vinyl wrap. We did all the design work, printing & installation.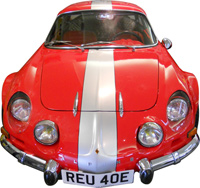 This Renault Alpine really looks sharp with the metallic silver stripe with black borders.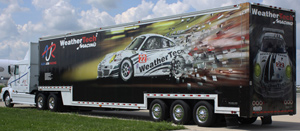 Another 53' WeatherTech race transporter wrapped by our team. We travel a lot to accommodate our customers.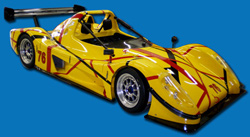 This is the first Radical we did. It carries the Eddie Van Halen theme.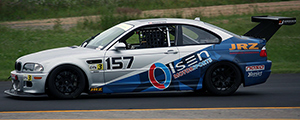 We designed this theme for this M3. The tone on tone graphics are quite effective. We call this a half-wrap.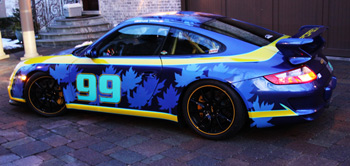 GT3 Porsche full wrap with a Canadian maple leaf motif. Quite striking and easy to see on the track.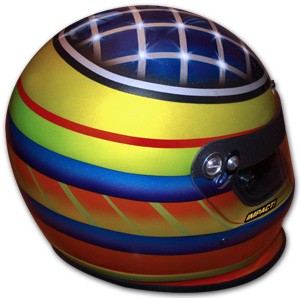 Another helmet design and custom paint job. Completely painted in automotive urethane and covered in automotive clear coat to give more durability.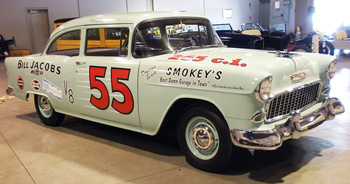 We did this tribute 55 Chevy for a local car dealer that was first opened in 1955.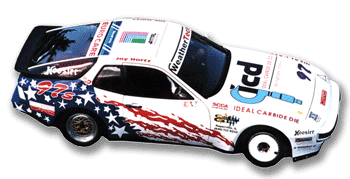 A Porsche 944 with a stars and stripes theme.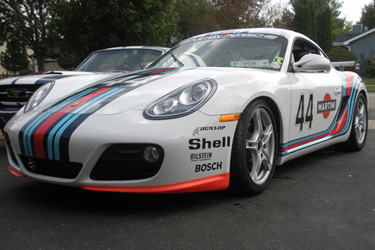 This Martini "Baby" theme was originally done on a Porsche 917K and we reshaped the graphics to look appropriate on a Cayman S.