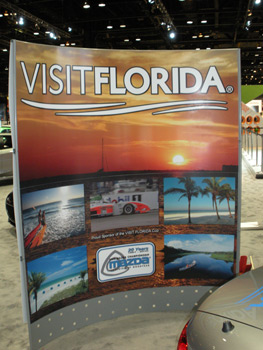 This 8'x8' display for the Chicago Auto Show for Mazda uses a Zero display panels with digital prints applied to Sintra(expanded PVC) We added graphics to the back side of the display too. We also did all the design work.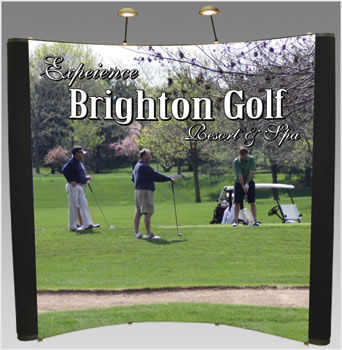 Here is an example of an 8'x8' portable pop-up display. Assembly by one person in less than 20 minutes. We design & produce the graphics & can be changed from show to show or year to year. All the display parts & graphics fit into a shippable case & it can even fly with your luggage on the airline. Several sizes are available from 8'x8' to 10'x20'.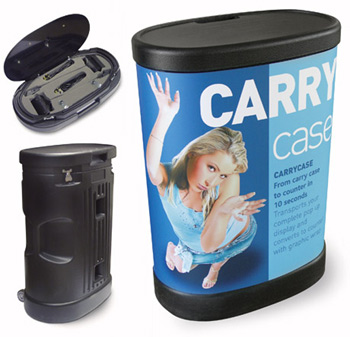 This package contains All parts to turn the Carrycase into a table top display with your graphics wrapping around it. The case has a handle & wheels for easy transportation.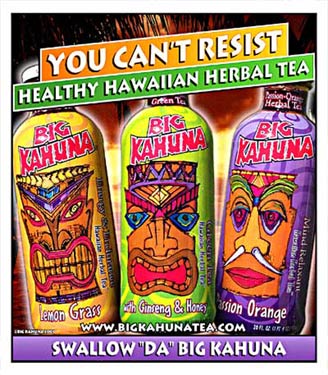 This graphic will stop traffic in a show. the key is to hook potential customers with this type of marketing.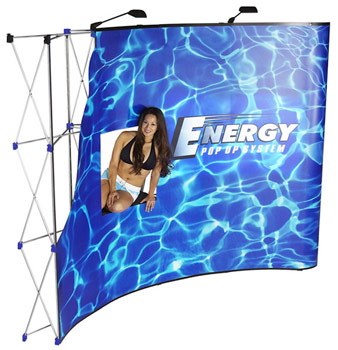 Energy displays are similar to other styles of pop-up displays. Very light weight & easy to setup within minutes. These self store in a convenient carry case with your graphics, display & lighting(optional). We can make show specific graphics & you simply choose which set of custom graphics are appropriate for the specific show you are attending & change for the next show.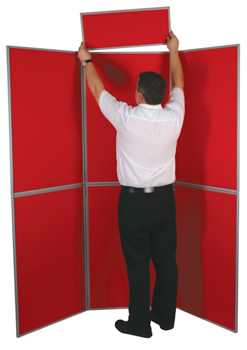 This display assembles in minutes, then the graphic panels are attached with Velcro for a simple but clean presentation. These come in several sizes & colors.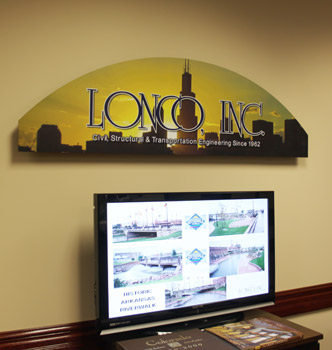 This company found a good use for their trade show display header after it was retired for a larger display. It now is mounted on the wall of their reception area. A 32" monitor runs an infomercial about their company & the table has their brochures on it. Neat idea.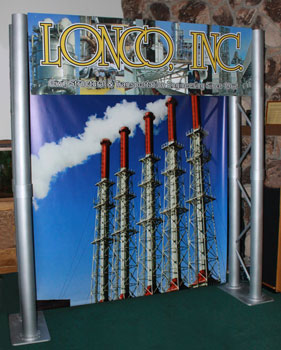 4" PVC pipe was used to create this display for engineering shows. Each show, our customer can & does change the graphic header at the top & a simple inexpensive banner becomes the backdrop too. The 8' high posts come apart to make more manageable sections. The bases also come off.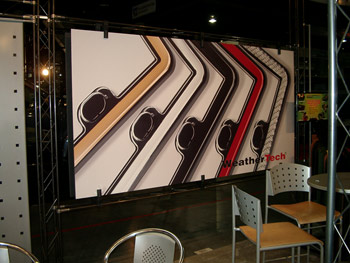 The large graphic panels can be updated regularly. These are installed on a Zero Systems display via adjustable clamps and is designed to allow 2-sided applications too. This is a high end trade show display for the SEMA Show in Las Vegas. Even the furniture is from Zero to match the theme.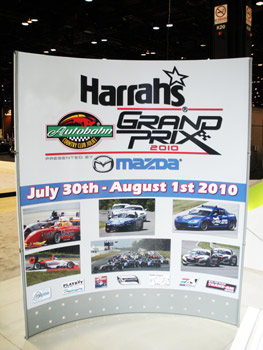 A great way to promote an upcoming event. Graphics are on both sides of the display. The curved Zero panels are self supporting.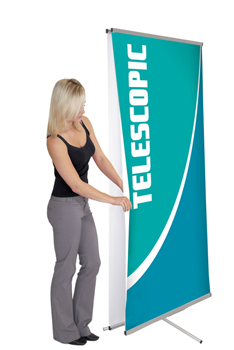 We offer many sizes & styles of banner stands that are easy to set up & go into easy to carry cases with shoulder straps. Styles to fit every budget. We can produce multiple graphics that are interchangeable for different type of events you will go to.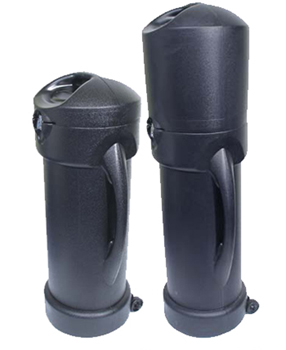 These cases are a few of many styles to transport your trade show graphics to & from shows. These are tough, protective cases that can be shipped or as luggage on the airliner.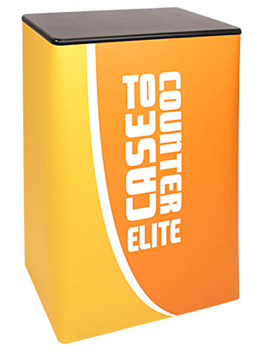 The carry case is the display. We will design the graphics to wrap around the case & you instantly have a counter to display your products & you can tell your story on the graphics below.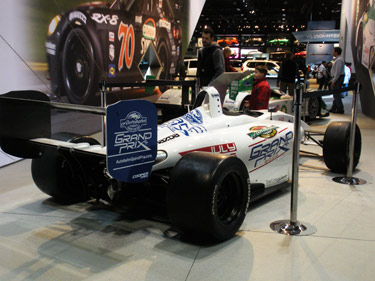 This formula racer became a billboard for the upcoming race at the club. After the Auto Show the graphics were removed & its sponsor decals were placed on it for the racing season.